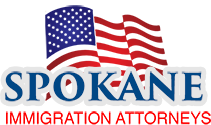 Please call to schedule an appointment today!
(509) 560-7051
Visitor Visa

(509) 560-7051
Visitor Visa – Spokane's tagline of "Near Nature, Near Perfect," is an embodiment of how Spokane reaches out and lures tourists from around the world.

Are you interested in traveling to this part of the country? If so,, your short trip either for pleasure, business, or medical care will first require you to obtain a B-1 or B-2 visitor visa.

Typically, there are at least 10 million people who come to the United States during a year as business (B-1) or as tourist (B-2) visitors. The intention of entering the U.S with a B visa is based on the premise that you come as a temporary visitor.
You have to return to your home country before the limited duration of time lapses as prescribed by United States Citizenship and Immigration Services (USCIS).


Tourists can stay for up to six months, while business visitors are given up to a maximum of one year. Upon approval by the USCIS, an additional extension of 6 months can be obtained.
B-1 and B-2 are classified as non-immigrant visas. Correspondingly, these two visas are issued together, meaning you can get all the available options and advantages under both.
A B-1 visa allows you to come for business purposes. You are prohibited from operating your own company or being employed in another company. You may not be paid by a source inside the United States. As of today, there is a seeming difficulty in drawing the line between permissible business activities and illegal employment on a B-1 visa.


A B-2 visa allows you to visit for purposes relating to pleasure or seeking medical treatment. At the end of your stay, you must leave the United States, but you can be easily readmitted should you wish to visit for another stay. Another option is that when your stay has expired, you can still apply for an extension of stay, without leaving.
Applicants for a visitor visa must show that they qualify under the provisions of Immigration and Nationality Act. Such applicant should never lie and use fraudulent documents or make misrepresentations just to get a visa. If a person has done so, then he can be refused entry at the U.S. border or airport, deported from the United States, and prevented from returning for a period of five years.

Do you need a lawyer? The application for a visitor visa is not a tedious and complex process. A lawyer's help is usually not required. However, for instances like troubles in getting past visas or overstayed visas, an immigration expert can help solve these problems. An immigration lawyer can help fix your immigration problems in getting a visa.

B-1 and B-2 visa application is a two-step process that needs you to:
Furnish an application with one or two government forms and some personal documents; and
Present your application to be submitted to an official at a United States consulate.
Finally, when you understand the requirements of the visa classification you are requesting, and you don't make any misrepresentations of your intent for a particular visa, you will not be tormented by insurmountable immigration problems as you visit the United States.
For your immigration related concerns, you may contact the Quiroga Law Office, PLLC, at (509) 560-7051. or email Hector Quiroga, for more information on how to obtain a visitor visa.