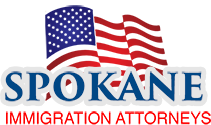 Please call to schedule an appointment today!
(509) 560-7051
Citizenship

(509) 560-7051
Citizenship – U.S. nationals owe allegiance to the United States government and are also entitled to its protection. He/she enjoys the highest level of rights and privileges afforded by the U.S. constitution.

In general, a person is entitled to these protections by:
Birth in the United States or its territories;
Parents or grandparents who are U.S. nationals or born in the U.S.; and
Naturalization, after having passed all requirements including an examination
Becoming a U.S. citizen by virtue of naturalization imposes a sole loyalty to the U.S. flag and people. The naturalization process enables an immigrant to become a U.S. citizen. Those immigrants who have maintained a period of continuous U.S. residence and presence can then apply for naturalization. Such lawful permanent residents (LPRs) are eligible to work in the United States.

Based on statistics, U.S. citizenship was conferred through naturalization upon 537,000 individuals in 2004. This represents an increase in the annual number of naturalized LPRs, which had declined since 2000 when 889,000 persons were naturalized.

In processing naturalization, applicants must have:
Good moral character;
Knowledge of U.S. history and government;
Proficiency skills for the English language; and
Willingness to support and defend the United States and its Constitution.
U.S. Citizenship and Immigration Services (USCIS), under the Department of Homeland Security (DHS), handles immigration applications (i.e. green cards). USCIS has various types of offices that include service centers and district offices. Fingerprints are taken at the Application Support Centers, while applications for political asylum are held at USCIS asylum offices.

To legitimize your claim as a U.S. citizen, you must apply for the following documents:
U.S. passports: available from passport offices in the United States and at consulates abroad. For those who were born abroad to U.S. citizen parents, the application for their U.S. passports requires an added requirement of establishing claims of citizenship. However, the process will still remain in the same way as someone born in the United States.
Certificates of citizenship: issued only inside the United States by offices of USCIS.
Certificates of consular registration of birth: issued by a United States consulate abroad.
The first step in acquiring citizenship is eligibility. An individual needs to have been a legal permanent resident of the United States for at least 5 years and be at least 18 years old.

Way back in history, Theodore Roosevelt famously declared in 1907:

"In the first place, we should insist that if the immigrant who comes here in good faith becomes an American and assimilates himself to us, he shall be treated on an exact equality with everyone else, for it is an outrage to discriminate against any such man because of creed, or birthplace, or origin."

Since the ways of becoming a U.S. citizen are always long, tedious and difficult processes, a consultation with an immigration lawyer is advised. Any matter relating to immigration is what an immigrant lawyer does best.
For your immigration related concerns, you may contact the Quiroga Law Office, PLLC, at (509) 560-7051. or email Hector Quiroga, a Spokane citizenship Lawyer, here.