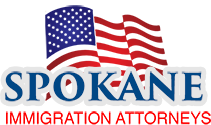 Please call to schedule an appointment today!
(509) 560-7051
Fiance Visa

(509) 560-7051
Fiance Visa – When there is a chance to fall in love, grab that chance, and if you are a U.S. citizen living in Spokane, Washington, you can bring your fiance to the U.S. for a grand wedding, with a K-1 visa.

There is much to talk about K1 visas. For one thing, this is available to foreign citizens who would like to marry American citizens and reside permanently in the United States. As defined, a fiance is a person who is engaged or contracted to be married.

There is, however, an optimum requirement – the marriage must be legally possible according to laws of Spokane, Washington, where the marriage will take place.

The two people must have met in person within the past two years. Being responsive to some traditions prohibiting a man and a woman to meet before marriage, the Department of Homeland Security's U.S. Citizenship and Immigration Services (USCIS) gives some exceptions to this requirement.

As the fiance of a U.S. citizen (on a K-1 visa), you are classified as a nonimmigrant. It is the U.S. citizen's job to fill out an affidavit of support, vying to support you financially and being able to repay any government assistance that you receive.

Once granted, you, being the fiance, will have six months to travel to the U.S. Upon arriving, marriage should be done within 90 days. You must then file for adjustment of your immigration status or choose to depart the U.S. if the visa expires.
For a fiance visa to be successful, the guidelines and requirements must be always kept in mind.
*If you use your visa to enter the United States, here are some notes to consider:
The K-1 visa will last only for 90 days. This is more than the enough time needed for you to get married and prepare your green card application. Your visa allows you to stay and apply for a U.S. green card. If you have unmarried children (under 21), you can bring them to the U.S. from your home country as they are eligible as K-2 visa holders.
On the other hand, the visa is deemed to be nonrenewable.
The K-1 visa can be used more than once.
Without any legal assistance to rely on, the task of obtaining a fiance visa can be daunting. Most information found might only be on the internet, which may be a little outdated. Immigration laws and procedures do change on a constant basis.

A consultation with a group of Spokane lawyers will work wonders in the processing of your fiance visa. Not only will the process be faster but surely, these lawyers will have suitable knowledge on current immigration regulations pertaining to your visa.

As a result, your immigration papers will not be wasted, as legal experts vow to give their best. While alternative visa services might be offering competitive advantages, a law firm provides unparalleled services.

An immigration lawyer can help fix things and can offer legal advice, elaborating more on his knowledge of the application process.

As Ambrose Bierce said "Love might be a temporary insanity, but can be curable by marriage."
For your immigration related concerns, you may contact the Quiroga Law Office, PLLC, at (509) 560-7051. or email Hector Quiroga, for more information on how to obtain a fiance visa.